Depop and Poshmark are two of the most popular online shopping platforms today. And if you are thinking of starting an online selling business, then I suggest that you check both of these apps to see which one is the best for you.
To help you decide on which platform to use, I will be comparing Depop and Poshmark based on the things that I believe have a direct impact on your target outcome - which are, of course, sales and revenue.
Let's start, shall we?
Listing an Item
Both Depop and Poshmark can be accessed using any browser and they also have apps that can be downloaded via Google Play (Android OS) and Apple App Store (Apple IOS). Both Websites and apps are very intuitive and very easy to use.
Listing an item is very easy and pretty straightforward for both websites/apps. However, they do have some differences when it comes to listing functionalities that you may want to know and I'm going to itemize them for you.
Uploading Pictures
One of the main differences with their listing functionalities is the number of photos that you can upload. With Depop, you are allowed to upload 4 pictures of the item that you are selling and one video. With Poshmark, you can upload as many as 16 pictures, unfortunately, video is not allowed with Poshmark.
Why do you need to know this as an online seller?
Pictures help online customers decide if they're going to buy an item or not. They don't have any way of seeing the actual item in person. And the more pictures you post, the easier for your customers to decide if they're going to buy your item or not.
This is also very important if you are selling designer goods. Depop doesn't allow photo collage and it's almost close to impossible to show all the details of a designer bag in just four pictures.
If you are selling designer goods such as designer handbags, potential buyers would want to see not only the present condition of the bag but also, proofs of authenticity such as hardware, tags, labels, closeup pictures of the materials used, receipts, etc.
Sharing Your Posts
Poshmark made sharing your post to social media websites a bit easier than Depop. As soon as you finish your listing, you have an option to share it right away to the major social media websites such as:
Facebook
Twitter
Instagram
Tumblr
And you can also share your listing to Posh Party, which I will discuss later.
With Depop, you can copy the link using the copy button and paste it on your social media accounts.
Ease of Use for Buyers
Depop is more like a shoppable Instagram feed. As a buyer, you have to use keywords to search for an item. This is one reason why Depop encourages sellers to add relevant keywords to their listings. As a seller, you are allowed to put in five hashtags per post.
With Poshmark, you can search using keywords and you can also find items using categories. As a buyer, I get more options with Poshmark and sellers also benefit from this functionality because it increases the chances of being found by potential buyers.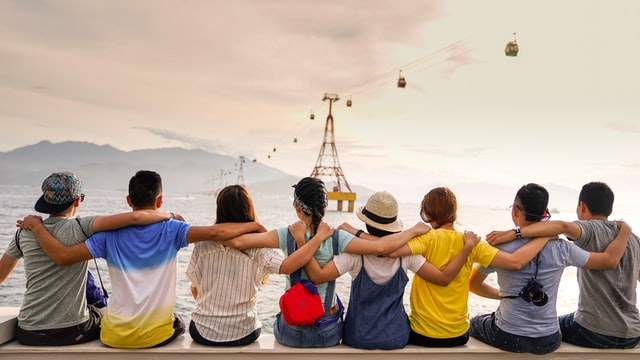 Community and Market Presence
According to Depop's website, they have around 21 Million community members, while Poshmark has around 60 Million members in the US and Canada.
Take this information with a grain of salt since the size of membership does not always directly translate to sales for a specific store. However, this is still good to know because it simply means, the bigger the community, the higher the chances of selling your item real fast.
Please take note as well that even if Depop's membership as of now is smaller compared to Poshmark, Depop is available to more countries.
Both platforms have huge Gen Z members which is also another thing that you have in mind if you want to be successful in selling on either Depop or Poshmark.
Communicating with Prospective Customers
Poshmark has an 'Offer' button that potential buyers can use to make offers to your items. Please note that Poshmark offers are binding so be careful in accepting offers.
Other sellers do not like this functionality because it makes you prone to encountering low-ballers since you cannot set a floor price, unlike eBay. Personally, I like having this option because it makes it easier for a prospective buyer to send me an offer.
Poshmark also gives the seller an option to send 'Offer to Likers'. When people 'Like' your item on Poshmark, you can easily assume that they're interested in your item and this gives you an opportunity to close the sale.
Since Poshmark does not have a Direct Messaging functionality, potential buyers often use the 'Comment' function to negotiate with sellers. The comments can be seen by anyone and I don't think that is a good idea since a lot of people don't like to negotiate in public.
Direct messaging is one of the things that I like about Depop. You can negotiate privately with your customers. I do hope that Poshmark adds this feature soon because a lot of other online selling apps have this functionality.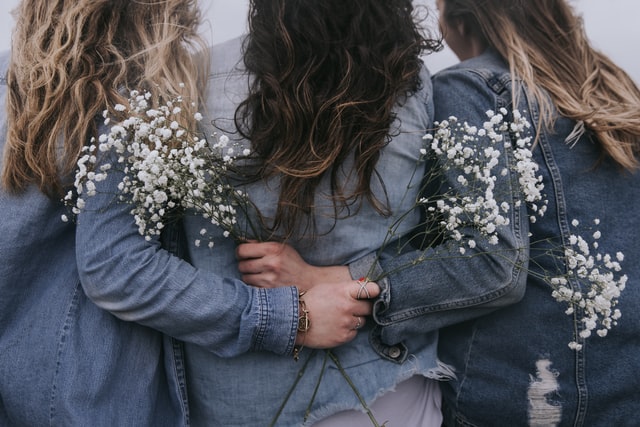 Marketing Support
Almost all online selling websites or apps that I use provide marketing support to their sellers. Depop and Poshmark also have their own ways of helping their sellers succeed in the online selling business.
Depop
Depop is active in both Instagram and Email marketing and they often post pictures of items together with the Instagram account of their sellers. This is a huge boost to all Depop sellers out there since it will not only help them sell their items fast on the Depop app, but it will also help them grow their Instagram followers.
Depop has an 'Explore' page which is basically a section that features curated items by the Depop Editorial Team. Just like any other online selling websites, getting featured does not guarantee a sale. But, it definitely increases your chance of selling your item because when you get featured, your item gets seen by a lot of potential buyers.
To increase the chances of getting seen by Depop users, you can 'Bump' or you can move your listings on top of the feed by editing your listing and saving it again (even without making any changes on the listing).
Poshmark
Poshmark has an interactive online event called Posh Party. It's a real-time virtual shopping event where users can meet up in the Poshmark app to shop, share, and sell items. As of the time of writing, Poshmark hosts 4 parties per day with varying party themes. During the Posh Parties, you can share your closet to increase the chances of selling your item. To maximize the benefits of joining a Posh Party, it's best to become a 'Host Pick' which means, your items will be picked by the host of the party and will be included in the Host Pick Showroom. Again, please note that this does not guarantee a sale, but it does increase the chance of selling your item.
Just like Depop, Poshmark also promotes its sellers on Instagram.
You can move your listing on top of your followers' feed by 'Sharing' your listing. This happens every single time you share, for every single item, for each one of your followers. However, it will not work for the users who don't follow you. So the key is, to accumulate as many followers as you can in order to take advantage of this functionality.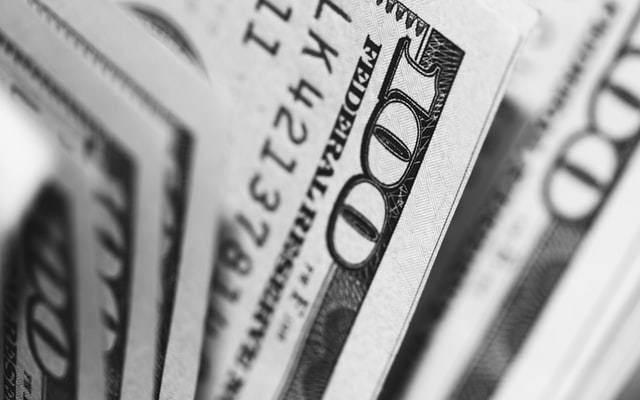 Receiving Payment
When it comes to receiving payment, Depop is the fastest. Once you make a sale, the payment of the buyer is sent right away to the PayPal account that is linked to your Depop. The good news is, you can transfer this straight to your bank account or you can just let the money sit on your PayPal account.
With Poshmark, it's an entirely different story. This is one of the things that sellers do not like much about Poshmark.
Poshmark will only release the payment to the seller after the buyer receives the item. They usually release the money to the seller's Poshmark account within 3 days of delivery. You can withdraw the money via direct deposit to your bank account or request a check.
If you are a seller on Poshmark, please take this into consideration when managing your revolving funds. Also, due to the ongoing pandemic, always keep yourself updated with the latest news and lockdown situation in the places that you will be shipping your items to as this might cause some delays with the shipping and delivery of your item.
Fees on Depop vs Poshmark
It's free to list your items on both websites/apps but they do have different commission fee structures which I'm going to illustrate below.
With Poshmark, once you sell an item, a small fee will be deducted from the final order price. For sales under $15, the fee is a flat rate of $2.95. For sales above $15, the fee is 20% and you keep 80%.
Shipping labels and credit card processing are also both free with Poshmark. Sales tax is also automatically calculated, collected, and remitted to the state on your behalf.
With Depop, you will be charged a 10% commission fee plus the PayPal processing fee of 2.9% + $0.30 payment processing fee when an item sells. Please take note that the 10% commission is computed based on the cost of the item and the shipping fee.
So, if you sell an item for $50 and the shipping fee is $4.75, then the 10% commission will be computed from $54.75 and not just from the cost of the item which is $50.
Let me illustrate below to help you further understand. Assuming that the item sold cost $50 and the item could fit in a small pouch, your revenue will be: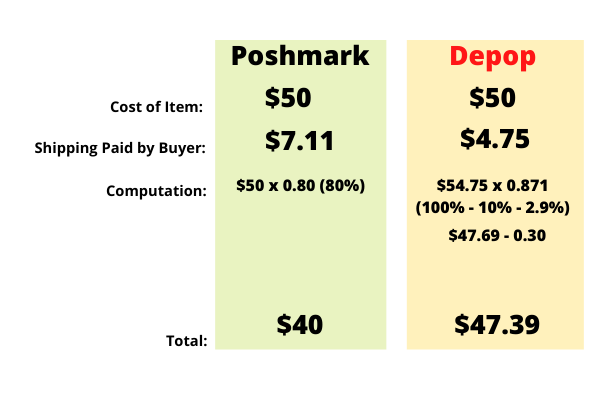 Please note that even if the above illustration shows that you can get higher earnings from Depop, it might not always be the case as this will depend on the cost of the item and the shipping fee.
Shipping Fees on Depop vs Poshmark
Poshmark has a flat rate of $7.11 for expedited shipping on all orders. The shipping fee is paid for by the buyer. All orders are shipped using United States Postal Service 1-3 day Priority Mail. Please note that any overweight costs are paid by the seller.
With Depop, you could arrange your own shipping or you can Ship with Depop with USPS (which is only available to Mainland US only).
If you Ship with Depop, the charges will be as follows:
Extra-small: $3.75 (First Class - less than 4oz)
Small: $4.75 (First Class - less than 8oz)
Medium: $6.75 (First Class - less than 1lb)
Large: $10.90 (Priority Mail - less than 2lb)
Extra-large: $14.40 (Priority Mail - less than 10lb)
Shipping with Depop is definitely cheaper for smaller items but it's more expensive for larger items compared to Poshmark.
Please note that the information above is subject to change so be sure to check Depop's website for any updates.
Returns and Refunds on Depop vs Poshmark
Both Depop and Poshmark have their own Return and Refund Policy.
With Depop, as long as the transaction happened within the app and the buyer clicked on the 'Buy' button to purchase the item, both the buyer and the seller are protected.
Please note that since Depop is a marketplace, each individual seller has their own return and refund policies. However, if the item that a buyer received is 'significantly not as described' then buyers can file for a dispute via PayPal.
All sales are final on Poshmark and returns will not be accepted if it's due to:
Fit Issues
No longer want the item
Delayed Delivery
However, just like Depop, if the item is 'significantly not as described', then the buyers should contact Poshmark within 3 days of delivery. Poshmark will then investigate the matter and decide based on the available pictures and other relevant information provided by the buyer.
Poshmark has its own process in place to facilitate the return and refund process. Buyers can file a return using their app or via their website. Here's a video instruction provided by Poshmark on how to file for a return.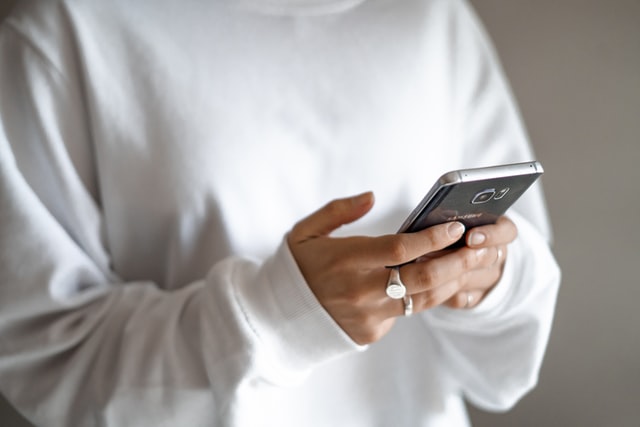 Customer Support
Both of these websites have extensive FAQs pages that answer most of the commonly asked questions by both buyers and sellers alike. You could also send them an email directly via these links (Depop/Poshmark) if in case you can't find the information that you're looking for on their FAQs pages or if you need additional help.
Selling Internationally
Poshmark sellers do not have an option to sell internationally at the moment. And even though Poshmark is available to both US and Canada, international shipping between the two countries is not available.
There is a work-around though, a buyer in Canada can purchase an item from a U.S. seller if they have the item shipped to a U.S. address or vice versa.
Canadian and U.S. Poshmark users are able to toggle between the Canadian and U.S. marketplaces. They are both allowed to access the entire international community to see listings and engage (like comment, share) with the Poshmark community members.
Depop sellers can sell to international markets but you have to arrange your own shipping by yourself. Again, it's important to remember that the 10% commission of Depop is based on the cost of the item sold plus the shipping fee. So this means, selling internationally might cost you a bit more.
Which is better - Depop or Poshmark?
Each website/app has its own advantages and disadvantages and it will all boil down to your target market and the kind of items that you want to sell.
If you are going to sell authentic designer goods that cost $500 or more, then it would be best to go with Poshmark since they do have a premium service call Posh Authenticate. This service provides extra verification and authentication on luxury handbags and other premium designer items. Please note that this service is only available for designer goods that cost $500 and up.
If you are planning to sell internationally, then Depop is your best bet mainly because Poshmark is not available to any other countries except the US and Canada.
If you're going to ask me, the best option is, to cross-post your items to both Depop and Poshmark. Listing is free anyway to both of these apps and you only get charged once you make a sale.
Cross-posting between the two reselling apps will enable you to take advantage of all the features that Depop and Poshmark have to offer and this will significantly increase your chances of selling your items online.
You Might Also Like