eBay, which started in 1995, is definitely the biggest and probably one of the most established online marketplaces in the US and as well as in other countries. We can consider eBay as one of the pioneers in the world of online selling and every online seller I know started with selling on eBay.
Depop on the other hand can be considered as one of the newest kids on the block. Depop was founded in 2011 and they later move to London in 2012. A decade later, Depop is now one of the fastest-growing and widely used online marketplaces by Gen Z in the world.
If you are new to online selling and if you're thinking whether you'll start selling on eBay or Depop, then read on. I will be highlighting the major differences between both online selling platforms to help you make a better decision.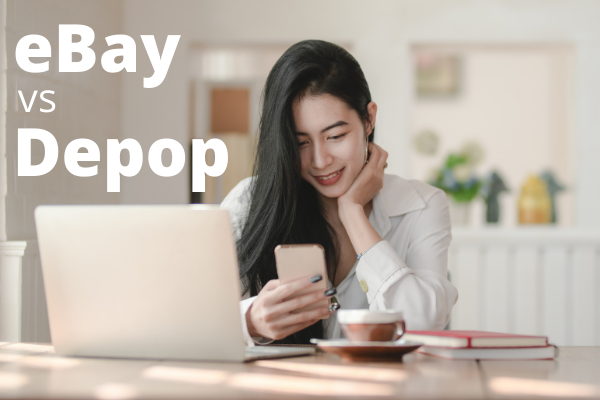 eBay vs Depop: Market and Demographics
eBay, as of the time of writing, has around 1.7 Billion active listings online and 185 million buyers in 1,500 cities around the world.
As I have said earlier, eBay is really one of the biggest online marketplaces in existence. And, it's also the most popular marketplace in the US according to the January 2020 survey by Statista.
According to Big Commerce's available data, 61% of eBay's customers are between 35 - 64 years old.
Depop on the other hand is the more popular market to younger Millennials and Gen Z. According to Statista, 55.7% of Depop users are between the age of 10 - 19 while 37.9% are between the age of 20 - 29.
As of the time of writing, there are 21 Million users on Depop around the world.
The most popular product to sell on eBay according to Oberlo are items that fall under the category of 'Electronics and Accessories' which account for 16.4%. Depop, on the other hand, is very popular for trendy fashion items such as clothes, shoes, bags, and accessories.
eBay vs Depop: Listing Options Differences
Listing an item to sell on Depop is free while eBay charges for listing and it will depend on the item's price, the format and category you choose for your listing, any optional listing upgrades you add, and your seller conduct and performance.
There are, however, a limited number of items that you can list for free on eBay as long as you're within the monthly Zero insertion fee allotments of your account.
Another main difference is the number of allowed pictures that you can post on each listing.
With Depop, you can post four pictures and one video while on eBay, you can post as many as 12. Photo collage is also not allowed on Depop as per their blog.
With eBay, it's not clearly specified on their website if photo collage is not allowed. What they did mention was the use of borders on pictures (which is not allowed).
Personally, I do Photo Collage sometimes, especially for designer goods.
You can also embed a video on your eBay listings by using third-party video hosting services such as Youtube.
The number of allowed pictures per listing may sound so simple but it is very important, especially for designer items.
For designer goods, you have to include all signs of authenticity such as tags, labels, inclusions such as cards and Certificates of Authenticity, hardware markings, serial codes, etc. And not to mention, the picture of the item itself. I don't think 4 pictures are enough to show all these details.
eBay also has tons of paid options when it comes to listing an item. These paid options could help boost your listings and will also help improve their searchability on eBay.
This is important because as I have mentioned earlier, there are billions of listings on eBay, and standing out is one of the keys to making a quick sale.
Depop doesn't have any paid options for boosting your listings.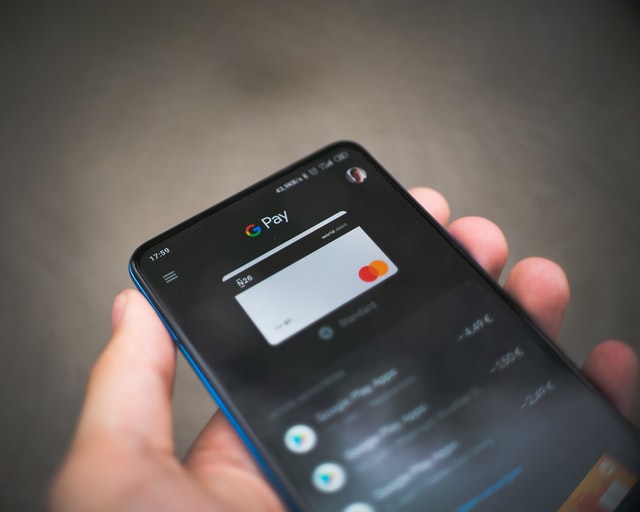 eBay vs Depop: Fees and Payments
Depop's fee structure is more simple compared to eBay.
Depop doesn't have a listing fee and only charges the seller once you make a sale. The transaction fee on Depop is 10% plus the PayPal fee amounting to 2.9% + $0.30.
With eBay, you get a certain number of Zero Insertion fees every month and you'll get charged a final value fee + $0.30 depending on the kind of time you sell plus the payment fee (PayPal or eBay Managed Payment system).
If you have a non-eBay store and if your payment is not managed by eBay and if you're selling second-hand clothes, it will fall under 'Most Categories' which means it will be charged 10.20% of the Final Value fee + $0.30 starting April 1, 2021.
Click here to see the complete list of eBay Fees.
eBay vs Depop: How Much Can You Earn
To help you further understand how the fee structure of Depop and eBay will impact your online selling business, we will illustrate an example below.
To make the illustration simple, we will assume that your eBay listing falls within your free insertion fee monthly allotment.
And, I will also use the updated rate of eBay that will be implemented for listings made on or before April 1, 2021 for non-eBay store account with payments not managed by eBay.
Here are some additional listing assumptions to make the comparison a bit more realistic:
Item: Vintage Shirt

Sold Price: $15

Shipping: You arrange your own shipping using USPS.

Listing Assumption: You didn't use any other paid listing option of eBay

Payment Assumption: PayPal for eBay and Depop
Given the following assumptions, you will earn a bit more on Depop instead of eBay.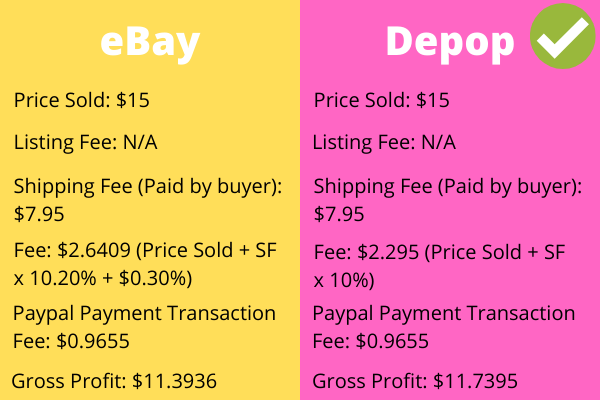 Please also bear in mind that there are other fees on eBay that they charge to sellers such as Additional Final Value Fees if you violate eBay's policy of buying or selling outside of eBay, or if you are not meeting eBay's performance expectations.
eBay vs Depop: How Do Sellers Get Paid
PayPal option is both available for Depop and eBay and if you opt for this option then you get paid outright.
eBay also has another option which is their own payment gateway that gives your buyers more payment options (credit, debit, and gift cards; Apple Pay; Google Pay; PayPal, and PayPal Credit). No separate PayPal account required - for buyers or sellers.
Payment processing for eBay Managed Payments will take 3 -5 Business Days from the day your buyer pays for the item until the day that the money is posted to your bank account.
eBay vs Depop: Shipping
Shipping with eBay can be integrated into your listing. You have the option to choose whether you will Ship in the US and/or Ship International and/or Offer local pickup.
If your shipping within the USA, you also have the option to use Integrated Shipping Carriers to help protect yourself against "Item not received" claims filed through eBay Money Back Guarantee.
For your convenience, feel free to use eBay's shipping calculator to get an estimate for each postal service's charge.
For Depop, you have the option to arrange your own shipping or you can 'Ship with Depop' which is only available to Mainland USA.
It's very convenient to use the 'Ship with Depop' service because you'll be able to generate a printable shipping label via the app which you can stick to your parcel using clear tape. You can then drop it off at a Post Office or at any blue USPS collection box.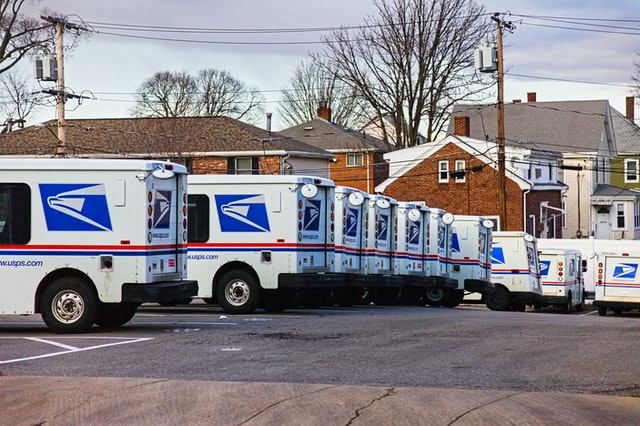 eBay vs Depop: Returns and Refunds
eBay encourages sellers to work with the buyers to resolve issues related to purchases including returns and refunds, especially for low-value items.
If a customer contacts you regarding returning a low-value item, you can resolve the issue by doing the following:
Ask the buyer to return the item to you and issue them a full refund including shipping costs
Allow your buyer to keep the item and offer a partial refund
Offer to replace or exchange the item
If an agreement is not possible, you have the option to ask eBay for help in resolving your customer's concern.
On eBay, most items are covered by the eBay Money Back Guarantee policy, and when you issue a refund for the item covered by this policy, your final credit value will be refunded to you but the Insertion fees and other eBay fees will not be refunded.
Make sure to keep yourself familiar as well with eBay's Seller Protection program to help protect yourself from some unscrupulous buyers.
For Depop, if your buyers think that the item that they have received is not as described, they will have to file a case via the Paypal Dispute Resolution Centre and they will have to return the item to the seller before the refund is given.
While the issue is being investigated, both parties will need to prove their claims by sending supporting photographs, videos, and proof of shipping if needed. Depop will mediate the process.
Returns and refunds are sometimes unavoidable especially once we scale up our online selling business. And the best way to avoid or at least minimize this is by making sure that we provide clear pictures and accurate descriptions of the items that we are selling online.
The main reason for a return is an unmet customer's expectations and having said that, if you will set the right expectation to your customer especially about the item's actual condition, then you will be able to prevent returns and refunds on your transactions.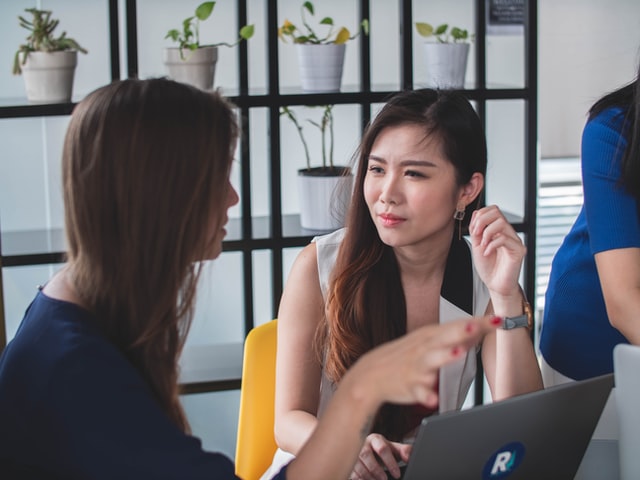 Final Thoughts: Which one is better, eBay or Depop
If I'm being honest, the increase in eBay's fees makes me think twice about it. However, I know that they're still the biggest online marketplace in the world thus, having an account on eBay will help me sell my items faster.
If most of your items are trendy and affordable fashion items then Depop might be the best option for you.
However, if you will be able to take advantage of listing on eBay without being charged for an Insertion fee (Listing fee) then consider cross-posting your items to eBay.
If you will be selling other items aside from clothes such as electronics or collectibles then eBay is the best marketplace for those items.
You Might Also Like