Etsy and Depop are two of the most popular online selling platforms globally. Both of them have millions of users worldwide and both of them are well known for very specific niches.
I have been selling online for a few years already and I always advocate cross-posting to multiple websites such as Etsy and Depop. However, I do understand that not everyone has the time and resources to manage multiple online selling accounts.
In this article, we will be discussing the key differences between Etsy and Depop to help you identify the better option for your business.
Let's start, shall we?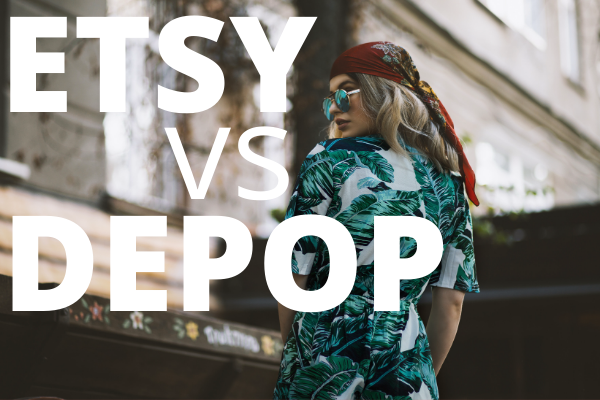 Etsy vs Depop: Market and Demographics
As I have mentioned earlier, both websites are well known for very specific niches. They don't consider themselves as curated markets though. However, over the years, they have both built a huge following for certain niches.
This is one of the most important things that you have to understand in order to succeed in the online selling world.
Just like any other business, you have to know and understand your target market. And choosing the right online selling platform will help you sell your items real fast and grow your business at the same time.
Etsy is known as one of the best marketplaces for vintage clothing, authentic designer goods, handmade items, and arts and crafts supplies.
Even though you can basically sell anything on Etsy, they have become the go-to-market for the aforementioned products.
Based on the available data by Digital Commerce 360, Etsy has 60.27 Million buyers as of Q2 2020 and it's continuously growing.
As of the 2020 Report by Saasscout, 34% of Etsy sales come from international sales and 67% of website visits are from smartphones.
Most Etsy customers are repeat customers based on the same report with a whopping 81% purchases made by repeat buyers. The majority of Etsy customers also are Millennials.
According to the latest available data by DMR, Depop is also a huge market with 15 million registered users as of the time being. 5 million users are based in the US and 90% of the market is below 26 years old.
Since most of Depop's customs base is Gen Z, Depop is highly popular with buying and selling trendy and affordable fashion items such as clothes, bags, shoes, and accessories.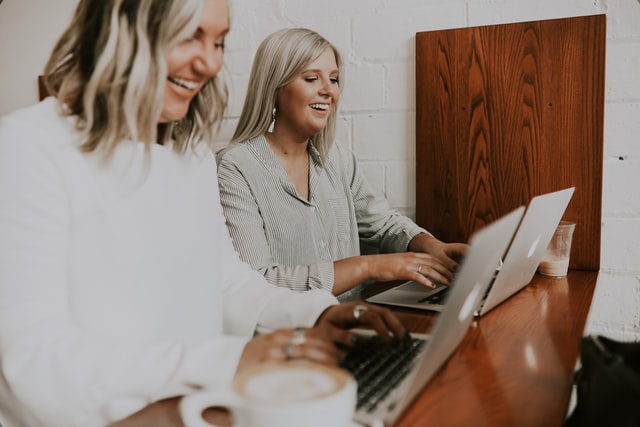 Etsy vs Depop: Listing Options Differences
I have mentioned earlier that you can practically sell anything on both platforms as long as you abide by their Terms and Conditions. There are, however, certain things that are allowed in Etsy but not allowed in Depop such as digital goods.
Depop focuses on selling material goods only, while it's ok for Etsy to buy and sell digital goods such as Printables, etc. For the full list of prohibited items, be sure to check the following pages.
Another key difference with both platforms is that Depop does not charge a listing fee and you will only get charged once you make a sale. Etsy on the other hand charges a listing fee except for private listings (custom works).
This is very important to know because it will play a huge role in your pricing strategy. We will further discuss the fees later in this article.
Regarding listing items, both websites also allow sellers to upload a video on their listing. For photos, you can only upload up to four (4) pictures on Depop and ten (10) pictures on Etsy.
Personally, I'm hoping that more pictures should be allowed to be uploaded on both websites especially if you are selling designer goods wherein you have to present pictures of labels, tags, hardware markings, etc as proof of authenticity.
Both websites/apps are intuitive and are seldom down which is a good thing because this ensures that your online shop is always accessible to potential customers.
Etsy vs Depop: Fees and Payments
The main difference is the Etsy listing fee amounting to $0.20. And aside from the listing fee, you will also be charged a transaction fee of 5% for the items that you sold plus the amount you charge for shipping and gift wrapping and also, Etsy Payment Fee or Paypal fee.
The listing fee is also renewed every after four months. So, be sure to keep this in mind.
One thing that I am also not very keen on with Etsy fees is participation in Offsite Ads. All Sellers are automatically enrolled in Offsite Ads unless you are allowed to opt-out of the program. You can only opt-out if you meet the criteria set by Etsy.
I know that marketing and advertising are very important in growing any kind of business including online selling, however, it would be better if this is optional.
Depop on the other hand, promote its listings and sellers on their Instagram page for free. Although not all sellers get promoted, at least they don't charge for it.
Even though Depop doesn't have a listing fee, they do charge a transaction fee of 10% which is twice as much as what Etsy is charging. But you'll only be charged for the items that get sold on Depop.
You will also be charged for the Paypal fee which is 2.9% + $0.30 in the USA plus the applicable shipping fee.
Etsy vs Depop: How Much Can You Earn
I'll be illustrating here how much you could possibly earn by factoring in the fees in your transaction. To simplify the illustration, we will be making some assumptions such as:
Cost of item
Listing Fee
Transaction Fee
Shipping Fee
We will also be assuming that you will be able to sell your items within four months in Etsy thus avoiding the renewal listing fee of $0.20. And also, we will not be factoring in other applicable costs such as Etsy's Offsite Ads fee, etc.
We will also make some listing assumptions to make the comparison a bit more realistic:
Item: Vintage Shirt
Sold Price: $15
USPS Shipping for Etsy for 12.5" x 9.5" Envelope: $7.40 (LA 90001 - NYC 10001)
Listing Assumption: You didn't use any other paid listing option of Etsy
Payment Assumption: You'll be using Etsy Payment (3% + $0.25)/ Paypal for Depop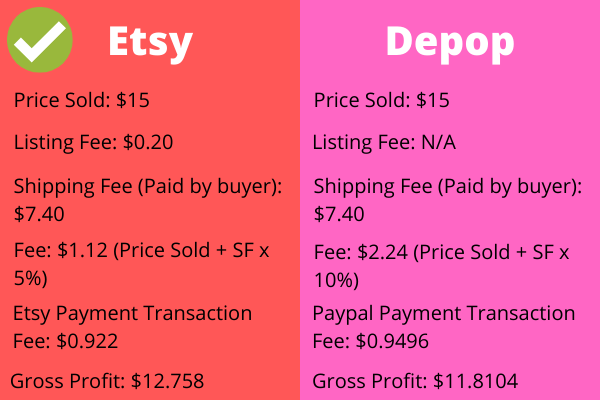 Based on our assumption, you will make more if you sell on Etsy even if there's a listing fee, practically because the transaction fee is half of what Depop is charging.
However, this is assuming that you get to sell your item within the four-month period. Of course, your Etsy cost will be higher the longer your item stays unsold on their platform because they charge $0.20 per listing every four months.
This also does not include the Offsite Advertising Cost of Etsy which runs at 12% to 15% depending on your annual revenue. You can check it here if you wish to learn more about this cost.
Etsy vs Depop: How Do Sellers Get Paid
Getting paid on both platforms is pretty fast since they both used Paypal. Etsy though has another option which is their own payment gateway called Etsy Payments, but it's not available in all countries.
The great thing about Paypal and Etsy payments is that both payment gateways enable your customers to pay via a variety of options such as credit cards, debit cards, Google Pay, etc.
Paypal's payment is immediate while Etsy Payment deposit becomes available 7 days after you make a sale if you're a new seller (first 90 days). After your first 90 days, the Etsy payment deposit should be available the next business day.
Please note that Etsy will deduct all applicable fees prior to depositing the payment to you.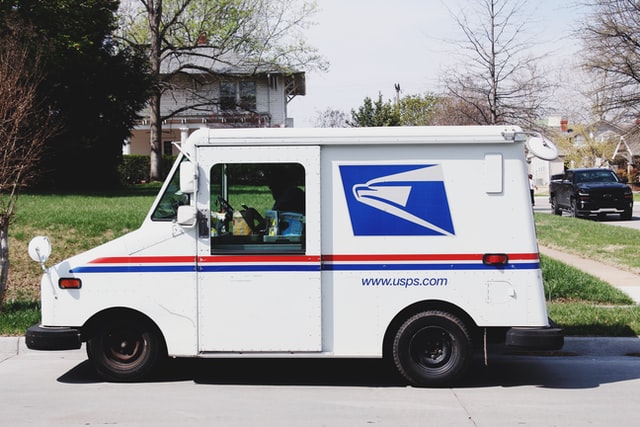 Etsy vs Depop: Shipping
For Depop, you can either arrange your own shipping or 'Ship with Depop' which is only available to Mainland USA.
Shipping via Depop is very convenient since you'll be able to generate a printable shipping label via the app which you can stick to your parcel using clear tape. You can then drop it off at a Post Office or at any blue USPS collection box.
The cost of shipping via USPS is as follows:
Extra-small: $3.75 (First Class - less than 4oz)
Small: $4.75 (First Class - less than 8oz)
Medium: $6.75 (First Class - less than 1lb)
Large: $10.90 (Priority Mail - less than 2lb)
Extra-large: $14.40 (Priority Mail - less than 10lb)
For Etsy, if you are a seller from the USA, Canada, UK, and Australia and if you accept Etsy Payments or PayPal as a payment method, then you are able to use Etsy Shipping Labels.
If you use Etsy Shipping Labels, you can purchase and print postage from USPS, FedEx, or Canada Post directly from your Etsy shop and you can even save for as much as 30% on the cost.
What I love about Etsy Shipping is that they even created a dedicated page that contains every information that you need in shipping with Etsy.
Here are the other advantages of shipping with Etsy:
It is very convenient since you can buy and print the shipping labels at the comfort of your home
It can also save you a lot of time because the shipping address of your buyer will be pre-populated and the tracking number will automatically be added to the order
Your customers will automatically be notified once you ship the items
You can also refund unused labels through Etsy
Etsy vs Depop: Returns and Refunds
We all dread returns and refunds because it eats up time, effort, and even money. Returns often happen when we fail to disclose all the important details of the items that we are selling and sometimes, it can also happen simply because the buyer did not like the item that they received.
Depop customers can file a claim if their items are significantly not as described. And this will cover the following reasons:
Incorrect sizes
Wrong color
Counterfeit
Severe damage
Incorrect item
Customers will have to file a case via the Paypal Dispute Resolution Centre and they will have to return the item to the seller before the refund is given. During the investigation process, both parties will need to prove their claims, and Depop will mediate. Proofs will have to be provided such as photos, tracked shipping label, etc.
As a Depop seller, it's very important to know that you are covered by Depop Payments Seller Protection program only if:
You sell in-app using Depop Payments and avoid making any transactions outside Depop
You shipped the order to the address on the Depop receipt using tracked postage that confirms delivery to the buyers' address.
Please note that you must keep proof of shipping and delivery. This is the only proof accepted by Depop.
You also have to dispatch within a reasonable timeframe
During the investigation process, make sure to respond to Depop in the given timeframe
You will definitely be covered once you have proven that your item was as described, but the buyer just seems to have changed their mind
The best way to avoid or at least minimize the returns and refunds from your customers is to ensure that you are providing clear pictures of the items that you are selling. It will also help if you provide an honest and detailed description including the actual measurement of the items.
Sure, it might take you additional time during the listing process, however, this can save you a lot of time and emotion from dealing with returns and refunds.
For Etsy, you, are responsible for your own policies regarding refunds, exchanges, and returns. Etsy buyers are very much aware the returns and refund policies vary from shop to shop.
So be sure that when you create your Etsy profile, you clearly state your return and refund policy and include important information such as the timeline and associated costs for returns. This will help you dodge possible negative feedback from customers.
Another thing to keep in mind is that if you sold and shipped an item to a customer living in the European Union, you will have to adhere to the EU Directive on Consumer Rights.
And also, even if you don't accept returns, bear in mind that customers still have the option to file for a claim on Etsy. So, just be aware of that.
As I have mentioned earlier, providing clear pictures, videos, detailed and honest description of the items you are selling can help you avoid or at least minimize the risk of returns.
It would also help if you will encourage your customers to contact you if they have any questions regarding the items that you are selling.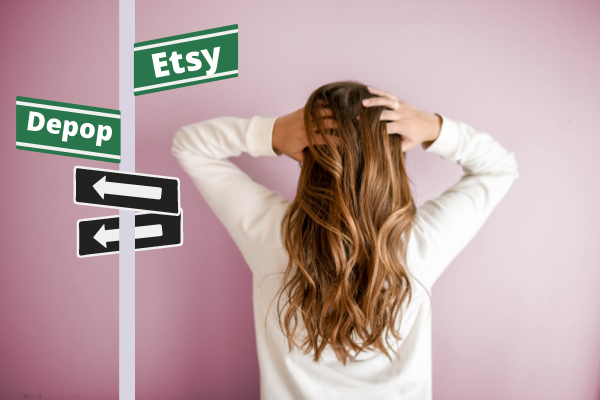 Final Thoughts: Which one is better, Etsy or Depop?
Both websites/apps have a very strong online presence and they have both carved a certain niche in the reselling market.
I highly suggest that you consider your target market and the item that you are going to sell in choosing an online selling platform.
If you are going to sell vintage clothing, authentic designer goods, and handmade items then you might find more success in selling on Etsy.
If you will be selling affordable and trendy clothes, then Depop might be a good choice for you.
My suggestion would be to create an account on both platforms and cross-post your inventory to Etsy.
Since Depop does not charge a listing fee, you can post your entire inventory on Depop and only cross-post your vintage and designer goods on Etsy. By doing it this way, your online shop can gain more online exposure while minimizing your operational cost.
You Might Also Like